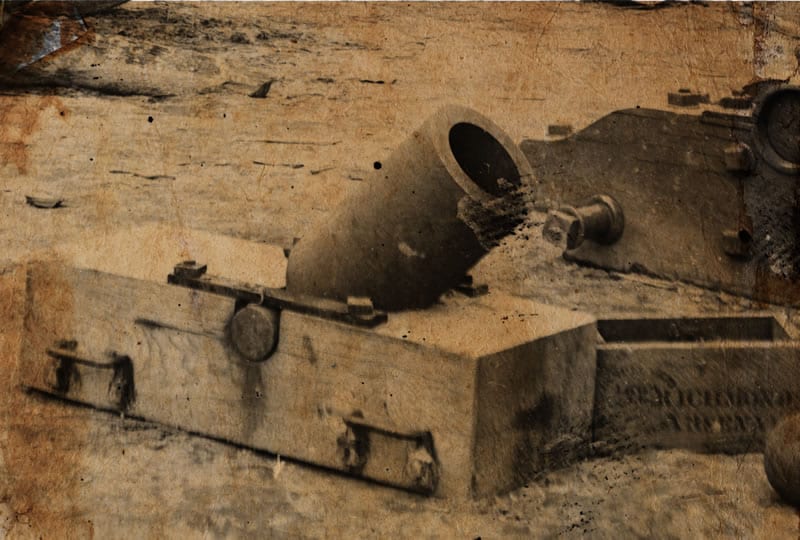 Story of the Coehorn Mortar
The Coehorn Mortar, a small muzzle-loading mortar, caliber generally 5.82 inches, is named for it's Dutch inventor, Barron Menno van Coehorn (1641-1704). Mounted on a block or platform, it was portable, easily adjusted, took little powder, and was particularly effective in sieges. The US Army had a 24-pounder brass Coehorn that weighed 164 pounds, or 296 pounds when mounted on it's four-handled oak mortar bed. Two men could move this mortar, but four men could better maneuver and rush this mortar into position in unprepared locations. Explosive shells could be lobbed into masked targets from 50 to 1,200 yards with the Coehorn.
Although the Model 1841 24 pdr. Coehorn is the most widely used on the Union side, the Confederate army did cast and use Iron 12 pdr. Coehorns, with a bore of 4.62 inches, as well as Iron 24 pdrs. As the war progressed, trench warfare became quite common, and mortars were found to be increasingly useful.
Larger siege and seacoast mortars are sometimes incorrectly referred to as Coehorns. At the time of the Civil War, three sizes of siege and seacoast mortars were common and considered standard: the 8-inch, the 10-inch, and the 13-inch mortar. 8-inch and 10-inch siege mortars had a maximum ranges of 2,225 and 2,064 yards, respectively, but their effective ranges were much shorter. For the 8-inch siege mortar (image left) at a range of 800 yards, about 50% of the shells would fall within a 50-yard radius of the target. With the 10-inch siege mortars at 875 yards, about 60% of the shells would fall within a 40-yard radius of the target.